Good Samaritan Health Services is Using the RetinaVue® Care Delivery Model to Reduce Barriers to Patient Care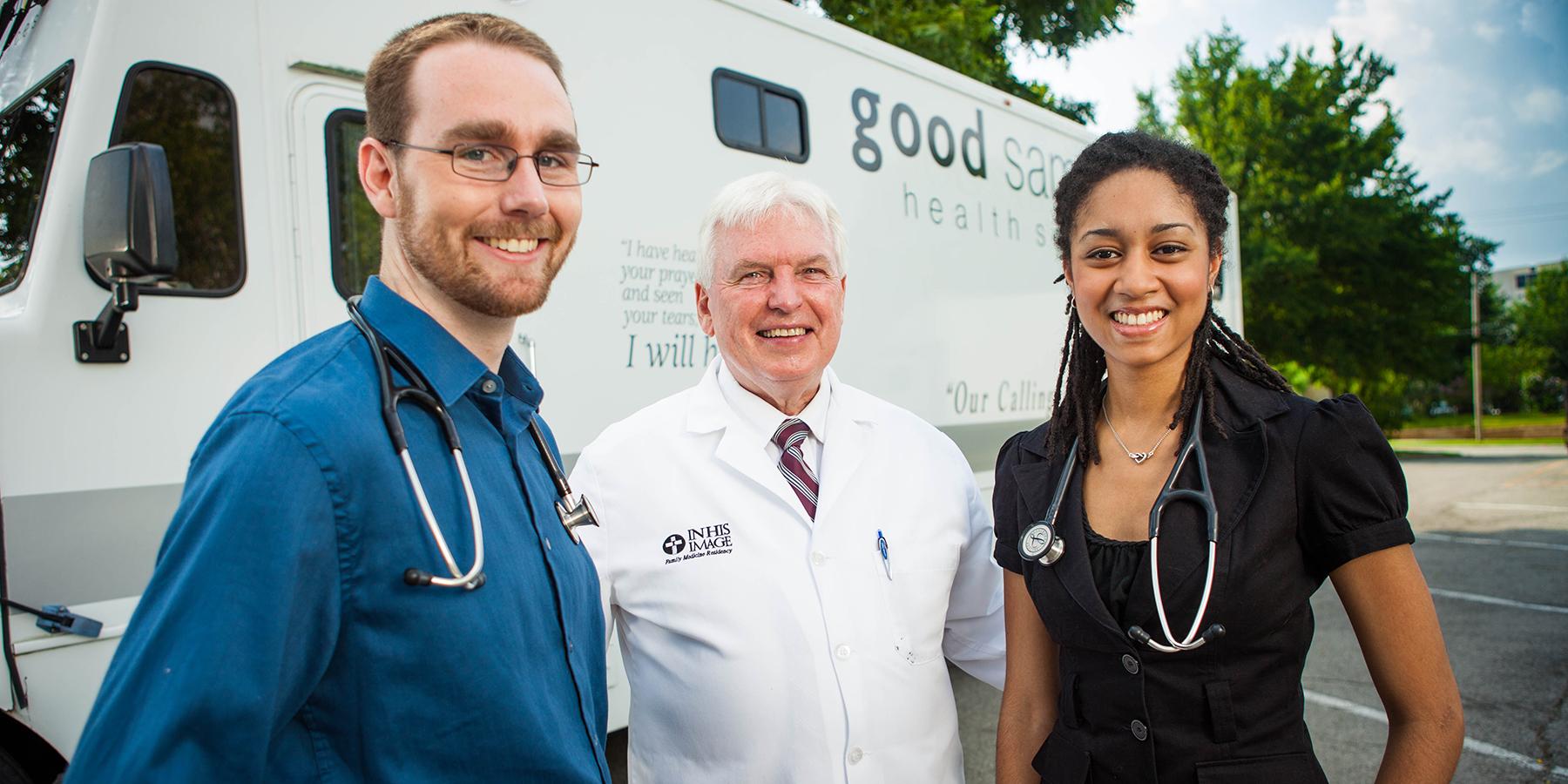 Overview
Good Samaritan Health Services is a faith-based non-profit 501c3 providing compassionate, high-quality primary healthcare to those with limited access to healthcare. Good Samaritan is 100% funded by donations from the public and grants. All services are provided free of charge. Good Samaritan Health Services partners with local churches to provide whole-person care for the spirit, soul and body at twelve medical clinics and three mobile clinics in Tulsa, Oklahoma.
Introduction
Good Samaritan Health Services (GSHS) of Tulsa, Oklahoma, provides free healthcare services to the underserved and uninsured in the greater Tulsa metropolitan area using mobile medical clinics. GSHS typically averages between 6,000 and 7,000 patient visits per year for approximately 2,000 patients who consider GSHS their "medical home" for primary healthcare.
Diabetic retinopathy is the leading cause of blindness in the non-elderly population. Diabetic retinopathy is even more prevalent among the underserved and uninsured patient population cared for by GSHS, as these individuals tend to have higher incidence of Type II diabetes and are unlikely to receive an annual dilated eye exam. Based on this knowledge, GSHS wanted to establish a diabetic retinal exam program to provide free retinal evaluations to diabetic patients on an annual basis and follow-up eye care to those diagnosed with diabetic eye disease.
Problem
To establish a diabetic retinal exam program, GSHS needed a method to provide retinal exams to patients with diabetes and also provide free follow-up care and treatment to any patient identified with vision-threatening eye disease. GSHS found they could use a teleretinal program to capture retinal images of patients on their mobile medical trucks and then transmit these images to a remote ophthalmologist for interpretation. To establish this system, they required: imaging equipment, software to transfer the images, one or more medical technicians proficient in operating the imaging equipment, and an ophthalmologist or retina specialist who would provide remote interpretation services free of charge.
Additionally, GSHS needed to collaborate with a local ophthalmology practice and retina specialist that would evaluate and treat patients with abnormalities either without charge or at a discounted rate for the uninsured. 
GSHS started their program in September 2009, after the donation of a VISUCAM® retinal camera and the promise of free services from a local ophthalmologist for a period of three months. The program was initially a success, but had to be suspended in January 2010, due to the lack of access to a local ophthalmologist willing to provide services for free or reduced fees. GSHS eventually transitioned treatment services to Oklahoma State University (OSU) Ophthalmology Residency Programs and obtained a grant to help OSU purchase a camera and laser systems to treat patients. However, the program had to be paused again when the OSU Ophthalmology Residency Program was suspended.
Additionally, GSHS had difficulty using the VISUCAM camera on their mobile medical trucks. It was important to GSHS to bring the program directly into the neighborhoods of greatest need. However, the movement of the vehicles and the fine vibrations produced by the on-board generators interfered with the calibration of the camera. 
Clearly, GSHS needed a retinal camera that could tolerate vibration and transportation and could be brought directly to neighborhoods in need. They also needed a more permanent solution for remote ophthalmologist interpretation of the retinal images, free or reduced cost ophthalmology monitoring and treatment services for their patients.
The RetinaVue care delivery model is designed to embed simple and affordable diabetic retinal exams in primary healthcare settings and helps primary healthcare providers improve patient outcomes while lowering population healthcare costs. It consists of three core components:
The world's most advanced handheld retinal cameras
HIPAA-compliant, FDA-cleared RetinaVue Network software to transmit images and manage data
Professional medical services by ophthalmologists and retina specialists at RetinaVue, P.C., the first tele-ophthalmology provider to earn The Joint Commission's Gold Seal of Approval®—or preferred eye specialists who will interpret retinal images using proprietary image enhancement software and provide a referral/care plan generally in one business day—complete with ICD codes, signature and license number.
The Solution
In July 2016, Good Samaritan became aware that medical equipment manufacturer, Welch Allyn, had developed a lightweight, portable retinal camera known as the RetinaVue® 100 Imager. This highly portable instrument was donated to Good Samaritan by Welch Allyn, designating GSHS as an alpha testing site for the newly developed camera. The new portable camera was put into service in October 2016. 
The portability of the handheld RetinaVue 100 Imager allows GSHS to take the camera to each neighborhood clinic on a rotating schedule, substantially increasing the number of patients examined each month. In addition to the portable camera, Welch Allyn partners with RetinaVue, P.C., to provide professional medical services for image interpretation. Retinal images are transmitted from the camera to a laptop computer connected to the internet. The images are transferred over a HIPAA-compliant network to an ophthalmologist at RetinaVue, P.C., who provides a diagnosis within twenty-four hours. GSHS is then able to refer patients with abnormalities to local providers for treatment.  
After the program was briefly paused, GSHS is back to using the ophthalmology residents at the OSU Ophthalmology Residency Program, who see the patients that have been identified with disease. When the resident sees a patient with retinopathy that requires a retina specialist, they refer the patients to themselves at the retina specialist's office. There, together with the retina specialist, the resident can examine and treat the patient as a part of their medical training.
Results and Conclusions
The RetinaVue care delivery model continues to provide GSHS with an effective solution for low-cost diabetic retinal exams. GSHS currently examines about 400 patients per year with the RetinaVue 100 Imager. On average, 12% of patients have some type of retinal pathology identified and about 8% require treatment from a retina specialist.
So far, GSHS has provided diabetic retinal exams primarily at their twelve clinic sites in the greater Tulsa area (45-50 exams per month). Their hope is to extend the service to other free clinics in the immediate area.  And the dream is to greatly expand the reach of the teleretinal program to surrounding and rural areas of Tulsa, Oklahoma.
The GSHS diabetic retinal exam program, along with the RetinaVue care delivery model, helps provide retinal exams for patients with diabetes who may have gone years without an eye examination due to the lack of insurance and other medical care. For the approximately 32 patients receiving treatment each year, this program is the difference between a life of sight and potentially becoming permanently vision impaired or blind.
All data provided by Good Samaritan Health Services of Tulsa, OK.